Welcome to Islamic Society of Germantown website!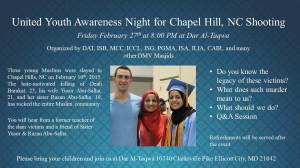 United Youth Awareness Night for Chapel Hill, NC Shooting organized by DAT, MCC, ISB, ICCL, ISG, PGMA, ILEA, CAIR, ICNA, ISA, and many other Masajids will be held insha Allah on Friday February 27th 2015 at 8:00 PM, at Dar Al Taqwa 10740 Clarksville Pike Ellicott City, MD 21042.
US media will be present to cover this event.
Location:
Dar Al Taqwa
10740 Clarksville Pile Ellicott City, MD 21042
When: 27th Feb 2015 (FRIDAY)
Time: 8:00 PM
Food: Refreshments will be served
Posted in
News
Comments Off